YOUR ONE OF A KIND HEIRLOOM (commission a custom painted portrait)
Are you on this page because
you admire these portraits, but you require a painting featuring your special companion(s) or an individualized gift to commemorate a life event or a personal bond?
If so, I can work with you on that. I joyously hand paint one-of-a-kind commissions to celebrate significant events and to memorialize precious relationships.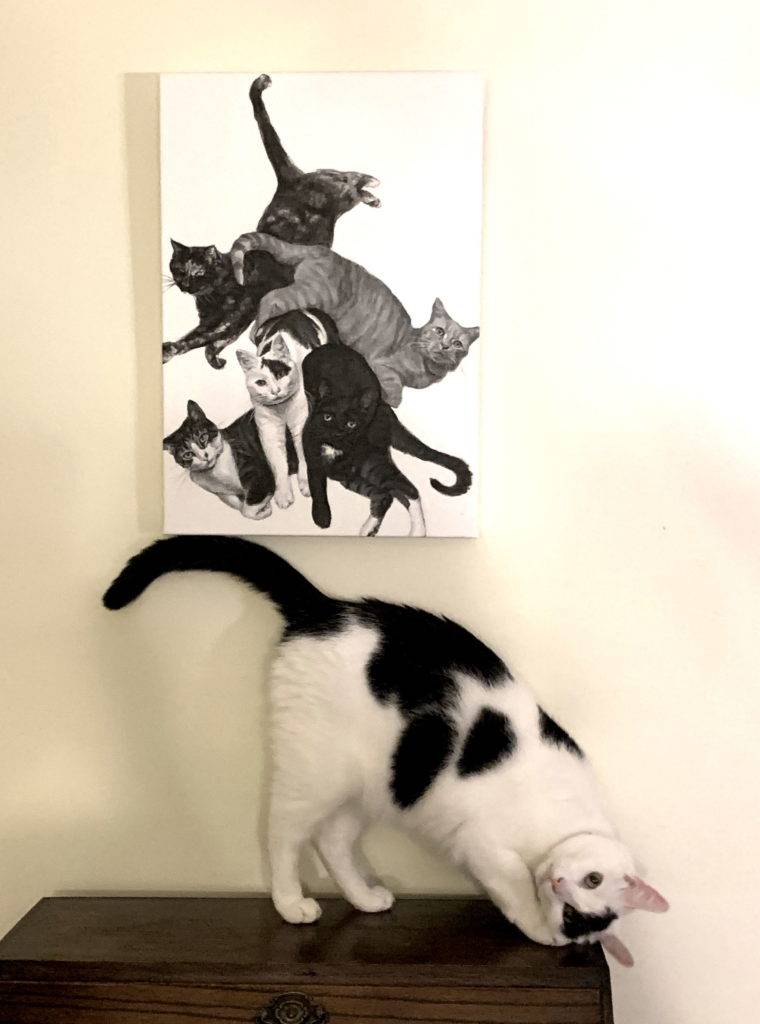 Cat Pile Up, 2019, (in its new home with model Felicien),
black and white acrylic on canvas, 20" x 14", Elizabeth Lisa Petrulis
Collection of Brian Bunnett, Terre Haute, Indiana
Features
Do you need a painting that will compliment your home, a friend's, or that of your office? These unique portraits feature an elegant black and white pallet that harmonizes with any color scheme.
How about art that does double duty? These portraits feature intimate close up views, and strikingly cropped compositions that simultaneously tickle anecdotes while beautifying your space.
Benefits
My Commissioned paintings adorn private rooms and public spaces with the same amusing, calming, and nourishing effects as your companion but without the flying fur, muddy paws, or chewed up papers.
Make a meaningful investment, let's work together to create a treasure that invites conversation and memories, an heirloom portrait that will last for generations and enrich the environment.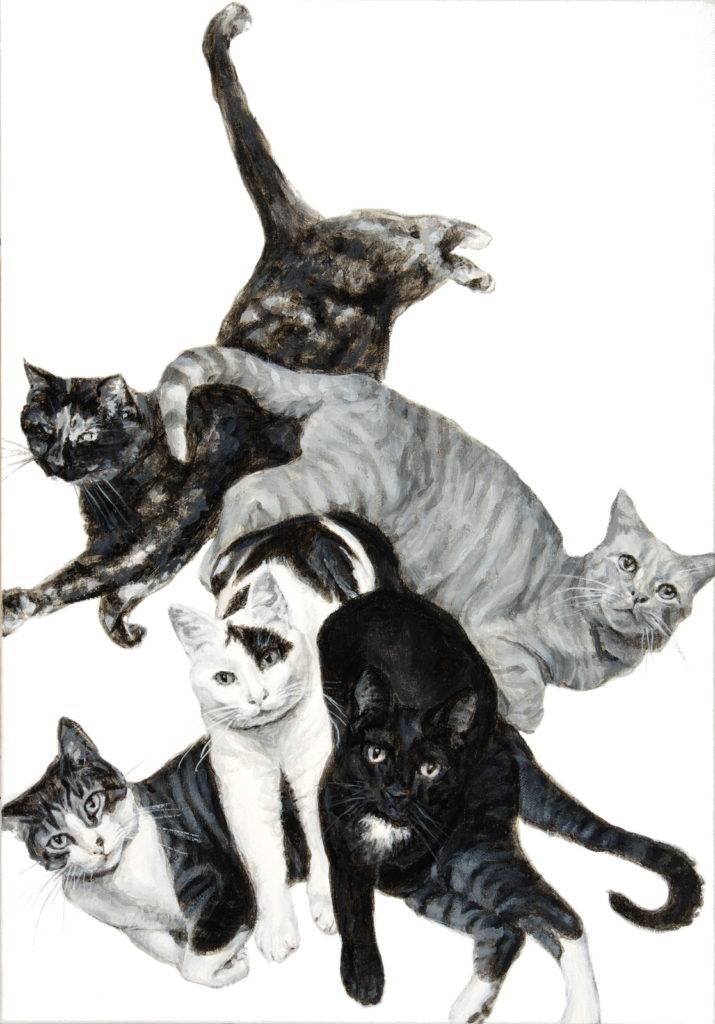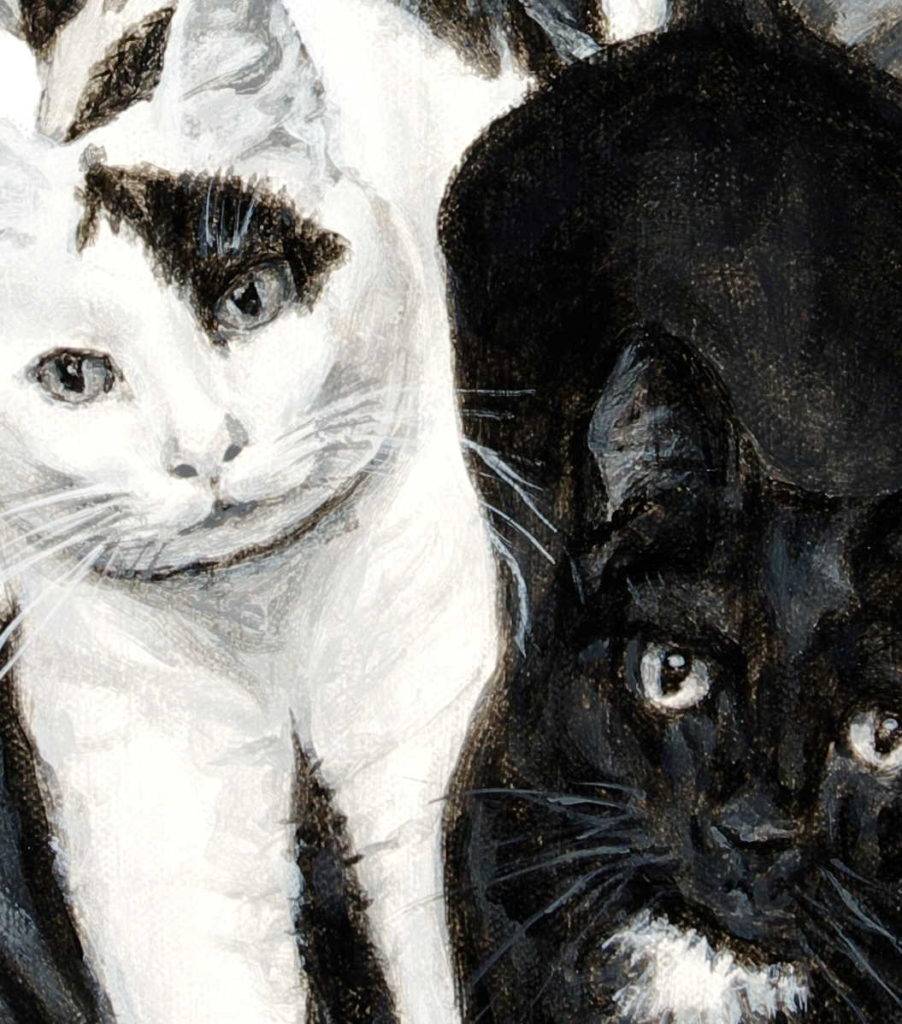 "Good morning, Lisa,

I finally broke last night and gave Brian the painting – only four days early. He had no idea what it could be. He opened the box and laughed with delight for about two minutes. You should know that Brian is NOT someone who typically laughs with delight. He was amazed at how you had captured each of the cats. He commented on their individual expressions and how true they are. He took something down off the wall and hung your painting in our dining room. We were talking about other places it might hang and in most cases he said, "But then we won't see it as often." Then he kept going back in to the dining room to look at it again, and each time he came away with a big grin on his face. Again . . . Brian . . . not typically a grinner…

Your work made my day and it certainly made his birthday. Thank you so much for delighting and amazing him!"

-Lisa Spence-Bunnett, Terre Haute, Indiana
HOW IT WORKS
IN SHORT: once you have reviewed this page and decided it is right for you-
You will fill out a questionnaire or discuss your project with me; E-mail images or schedule a consultation & photo shoot; sign a contract and make a down payment. Next the work will go into my work queue and you will be notified of the estimated time line. I will provide design options for you to choose from or comment on, and once a design is finalized I will begin to paint. When you have approved the finished painting we will arrange final payment and delivery. For details, and to get started, see below.
DETAILS
Deciding if it is right for you
If you haven't already, please look at my Portfolios to make sure my work speaks to you.
Review the rest of this page including links to the questionnaire, price options and contract before you decide.
Committing
Next we will need reference photos, a contract, and a down payment.
If you need help with photos-
Not sure about your photos? email them to see if I can work with them.
If you just can't decide between them, email a bunch, I'm good at editing down to a few.
Or schedule a consultation.
I can also work from a combination of my shots and your photos.
To get started
Choose your budget and option. Or contact me for a quote. (Note your budget or option in the questionnaire.)
Complete and submit the questionnaire. This will not only give me an idea of your desires and needs but also help you make decisions about your project.
schedule a photo shoot (I can also work from a combination of my shots and your photos.)
OR email your photos * (please include an explanation of why you chose each photo and what you like or dislike about each).
Remember even if I only use one photo as the basis for the final composition it's beneficial for me to have several images of the subject — so upload several.
Once questionnaire and photos are received (or a photo shoot is scheduled) I will send an email with a contract for you to sign.
And I will email a PayPal invoice for the down payment.
When the signed contract and payment are received you will be scheduled into my work queue.
Design mock ups and schedule
If I shoot photos, I will send my top 5 or so picks for you to ear mark 1-3 as your favorites. Tell me what you like or dislike about each. (If you wish we can schedule a meeting to discuss them.)
Once I receive your choice of images (with explanations) from my photos or yours, I will mock up 1-3 digitally manipulated photos representing painting compositions. You will receive them for review within 2- 4 Weeks. (Or shorter for a simple and small painting.) And I will ask for feedback.
After you send feedback on the mock-ups –I will either begin painting unless further tweaking and feedback is needed.
Main reference image, Secondary reference image, Final mock-up design.


Progress
Time frame Depending on complexity and size of the portrait, and my schedule:
From mock-up approval it can take from 1 week to 6 months to finished painting depending on the complexity and size.
Estimates are given with composition mockup.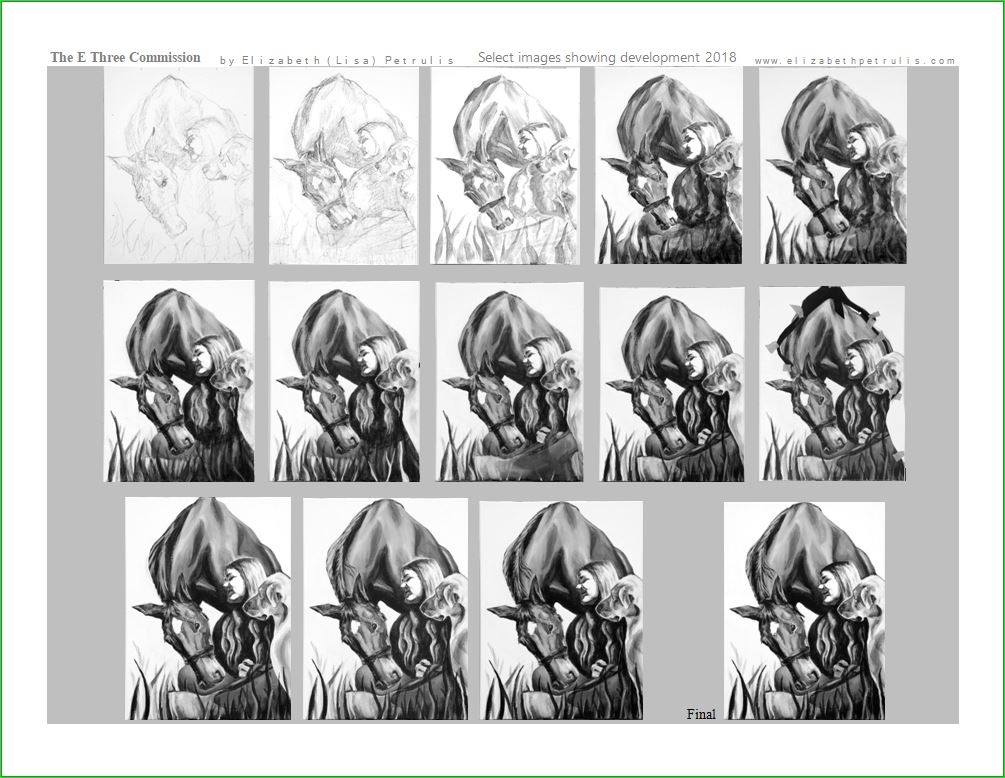 Communications
My preferred mode of communication is email, however we can schedule a phone, skype, or in-person meeting to discuss the project at any time.
If email does not work for you for reviewing images I can also arrange a DropBox, private Pinterest album, or private web page.
Final approvals and changes
I will email (or send a link) to a picture of the near final painting for your approval. At that time you can suggest minor changes.
I want you to be happy; I'll make minor changes for free before the painting is delivered. However if you require major changes an extra fee may be charged.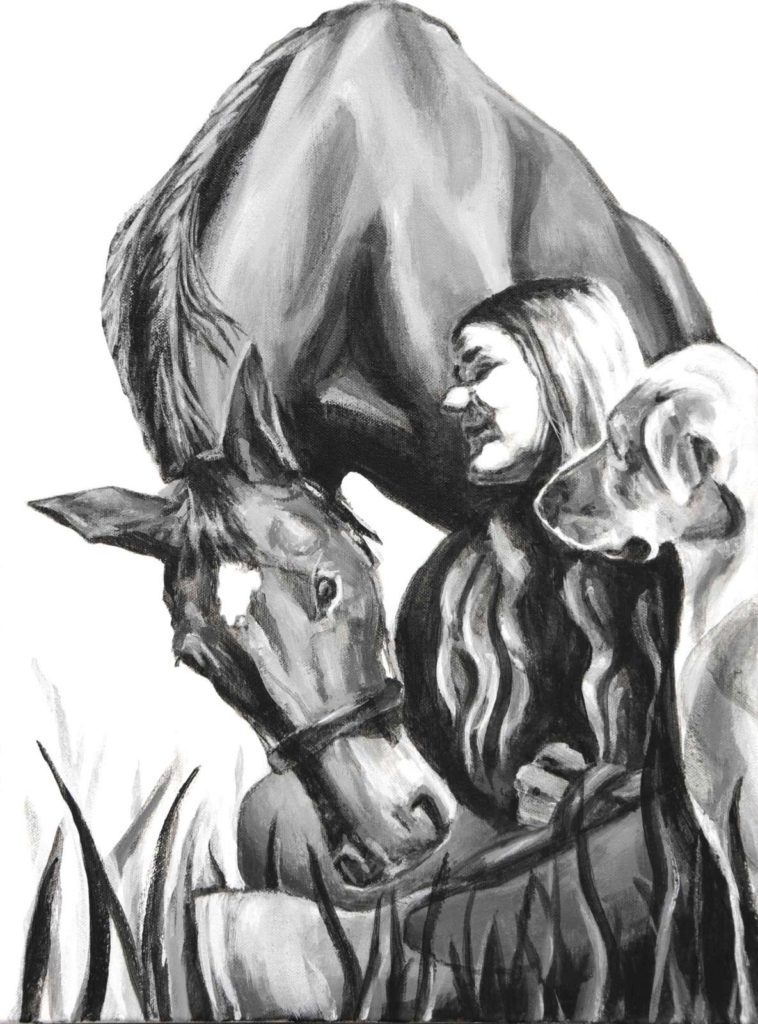 Final Payment & delivery
Upon your final approval the balance payment is due.

Shipping and sales tax, if applicable, are calculated separately.
I will email an invoice, with a paypal link, including shipping and Illinois sales tax if applicable.

Once payment clears, shipment or delivery/pick up will be arranged.
You do not need a PayPal account to purchase through PayPal as the service gives you the option to use a debit or credit card.
NOTE on COPYRIGHT: When you purchase a physical work of art to display and cherish, you are not purchasing copyright. I retain all my copyrights, however I will grant you the right to distribute on your social media but ask that you kindly credit me when you do so (and I would love it if you tag me).
Read more in terms of service.


INTO YOUR HANDS, ONTO YOUR WALL
What's Next?
Use the links above to send in your information and I'll get back to you.
Do you need other options? If you need a specific size or shape to fit a particular location, or other variables not listed here, contact me to see if I can meet your needs and for a quote.
Coupons Short on time? Don't have a photo of the subject? A gift coupon allows the recipient flexibility to make choices and upgrade. (Valid for 1 year from purchase.) Contact me with your budget and information.
For more information
Read privacy policy & terms of service, or contact me.