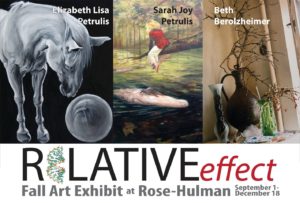 Works of art by three women related by blood and marriage.
How to view
Though the physical exhibition has closed you can still see it in the online tour put together by Rose Curator Christy Brinkman-Robertson.
The exhibition was on the first and second floor hallways of Moench Hall,
Rose-Hulman Institute of Techology, 5500 Wabash Avenue, Terre Haute, Indiana 47803-3999
View the Virtual Tour
How to buy
The store is now closed and under renovations.
ABOUT MY WORK
You know those people who can't get enough of babies? That's me with animals. I've been known to spontaneously shout out "DOG" when I see one; it's embarrassing when a human is walking by thinking I meant them.
I use a high contrast pallet to set off the elegance, peculiarities, and dynamics of body shapes. Posture discloses so much as it activates the spaces around and between.
The paintings evolve into mysterious situations that I did not plan (though I am meticulous with composition). While painting subtle shifts in line or value, even small tweaks in an eye can change an expression, the mood, and what it implies.
These intimate slices-of-life or fantasy reveal character and hint at memory and anecdote as they honor our interspecies bonds.
I'm HONORED to report Fan Tail is now part of the Rose-Hulman Permanent Art Collection.
The show made news in the Terre Haute Tribune-Star.
Thanks for visiting.
We would love to hear your comments or questions about the show.