I've been playing with a new time lapse app on my phone (Lapseit). Here is a picture of my DIY phone camera set up. Had to tape it to the tripod for the time being.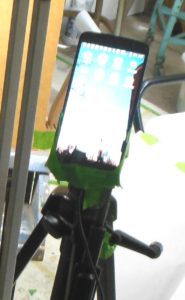 I haven't tried it with painting yet but here is a video (about 45 seconds) of a quick draw I did in about an hour (from my instagram feed).
See more drawings in the Drawings portfolio. See another portrait of Candy in Faces and Limbs portfolio.
Here is the first version I drew while trying out the app, but I didn't quite know how to work the app.